Columbia Area Career Center alum Rachel Koppelman recently found herself in the pages of the nationally circulated PARADE Magazine, profiled for her upcoming role as a member of Team USA in the 2011 WorldSkills competition in London. Rachel will compete in the cooking category, a track she began back in her days as a CACC culinary student under the direction of Chefs Jeff Rayl, Brook Harlan, and Carri Risner. Rachel won the 2010 SkillsUSA Culinary Arts competition as a senior in high school, not only earning her a full-ride scholarship to the Culinary Institute of America, but the opportunity to represent the United States as the best-of-the-best in her trade as well. "We could not be more proud of her," Chef Risner said of Rachel, "This is a great example of hard work paying off."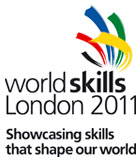 Rachel will be among more than 1,000 young people, chosen as the finest in their skilled categories, to travel to the UK in October for the competition. She is currently pursuing her professional degree at CIA in Hyde Park, New York.
Check out the full article here!
Want more information about the WorldSkills Competition? Find out more here!